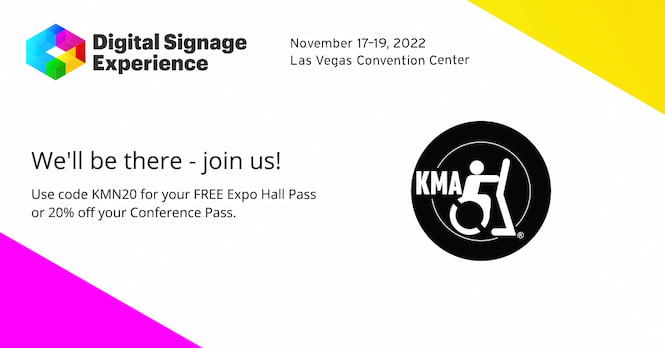 Digital Signage Experience in Vegas 2022
From Kiosk Industry
DSE Digital Signage Experience Update
DSE Tradeshow aka Digital Signage Experience explores every aspect of digital and interactive display technology, from concept and design to content and analytics.
No matter what business you're in or where you are on the adoption curve, the DSE tradeshow caters to your needs right now, providing access to hundreds of leading vendors of digital display, interactive technology and content solutions.  
See you at DSE in Vegas November 17-19 for Digital Signage Expo.  We are in booth 617 and looking forward to the show. Craig is facilitating one of the Lunch sessions.
In our booth
DSE Tradeshow Agenda
DSE Participants
Digital Signage Resources
Useful Links
For more information you can email [email protected]
---
Contact info — [email protected] or 360-620-0232.
---
About DSE Digital Signage Experience Tradeshow
DSE has/had been the leading event for the digital signage industry for 15 years. Questex acquired the assets in early 2021, and will build on that legacy as the preeminent event and digital platform for the digital signage industry, showcasing innovations in technology, market applications and creative educational content.  The original Digital Signage Expo was very well received albeit under former owner it lost some of its luster in those final years. Poor management is general consensus.
Questex will combine its capabilities and experience as the leading information and events company focused on the experience economy with input from the industry including past sponsors, exhibitors and attendees to deliver an updated and renewed DSE for the industry going forward.
With an increased focus on reaching key end-user markets for digital solutions and experiences, DSE will harness other audiences and platforms in hotels, hospitality, travel, healthcare, entertainment, education, sensors and communications technology and more.
More Posts