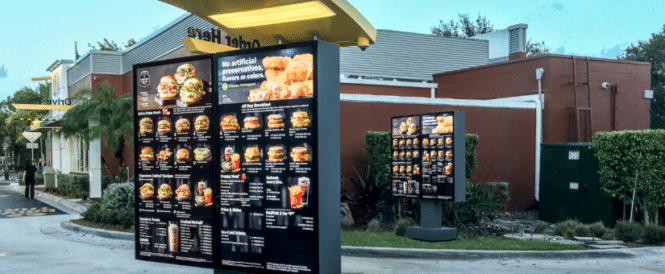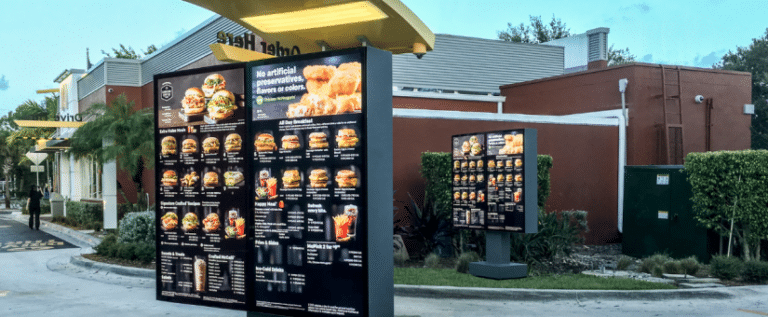 Digital Menu Boards
From Sixteen-Nine.net — note the feature image is from Keyser which except for Mcdonald's is unrelated.
When looking thru the Complaints and Litigation one of the commonly found companies is Samsung. They are in so many things that it more or less comes with the territory.  We note that Samsung expanded its presence in Plano in 2020 ($11M). Plano is part of Eastern District of Texas aka the litigation nexus in the U.S. Not unlike registering as a business startup in Florida for that matter.
Dave Haynes first reported this and we took a long look at his writeup.
In Brief from Sixteen Nine
Five counts of infringement
Coates and Palmer Digital added
Coates complicates things as Coates recently announced they were named as Mcdonald's Global Supplier.
Dave Haynes comment — MRI has a reputation for producing super-reliable screens rated to last 10 years or more, but all the engineering to ensure that longevity means the screens are more costly than those of many to most competitors. The company has tried in the past to chase QSR drive-thru business, but the franchisees who have to pay for screens are, not surprisingly, looking to control capital costs. MRI has had much of its outdoor display success with OOH media owners and has about 40,000 in the field.
Manufacturing Resources International (MRI) has several litigations in process and the main one regarding Samsung revolves around the OH-series outdoor displays. Interesting too is that proposed respondents include Coates and Industrial Enclosure (dba Palmer Digital)
---
The Litigation
Summary – Manufacturing Resources International (MRI) has filed a complaint with the International Trade Commission (ITC), naming as proposed respondents various Samsung entities, together with Coates Signco (Coates Visual) and Industrial Enclosure d/b/a Palmer Digital Group (337-TA-3636). The Georgia company has also filed a concurrent case in the Eastern District of Texas against Samsung (2:22-cv-00320), alleging infringement of the same five patents, which generally relate to cooling systems within electronic displays. The accused products are certain Samsung displays allegedly incorporated into outdoor or semi-outdoor signage products.
MRI Litigations
SideBar – Documented Failures Incidents
There have been "failures" in the past and its worth noting that the end diagnosis centered on the integrators. Earlier incidents of Samsung OH55 outdoor menu "failures" were initially termed isotropic and temporary, but upon closer inspection, those were recognized as edge seal breach and loss of LC fluid/ingestion of air, and permanent. In plain English, the bubbles were caused by inadequate cooling of the LCD combined with the differential coefficient of expansion forces caused by the front and rear polarizers on the LCD resulting in bowing/bending/twisting of the LCD cell. Heating of the LCD fluid causes the fluid to expand, resulting in the LCD cell physically bulging.  And then on top of that add in direct exposure to sun. KioskIndustry provided a technical review.
The takeaway is that while the screens are fine, in the bright sun you will still need proper mounting and cooling.  This is the responsibility of the integrators.  Below is some advice and opinion to consider further.
The industry naively believes that if the Tni (isotropic temperature) of the LCD panel is high enough (i.e., 110+°C) it can be exposed directly to the sun with no adverse consequences. Nothing could be further from the truth. 
The front polarizer of the LCD must be kept cool in any ambient from -40°C to +50°C, with or without solar irradiance exposure up to 1250 w/m^2
The rear polarizer of the LCD must be kept cool
Under any combination of solar irradiance and ambient temperature exposure, the LCD cell must be kept physically flat to minimize mechanical stress on/deformation of the LCD cell
More Posts
Our Resources Include